i.e.VR's primary mission is to explore new real-time computer graphics technologies in live performance. The culmination of our various research initiatives is the occasional live performance before a theatre audience. Each production is a showcase and a testing ground for new ideas, techniques and technologies.
RINOCEROS

(2017)
By Eugene Ionesco
A group of Rhinoceros is called a "Crash." What could provide a more fitting metaphor for Ionesco as he saw his fellow Rumanians, even the intelligentsia, succumb to Fascism, don green shirts, and parade in nationalistic and xenophobic demonstrations.
​
This absurdist piece lent itself beautifully to a 21st Century "Living Newspaper," cyber-style, design world. Political cartoons, scrolling instant messages, tweets, posts, and blogs all conveyed Ionesco's text as we pondered what is news, what is fake, and what stand must we take?
A MUSICAL (2013)
​
by Joshua Schmidt
& Jason Loewith
​
Our first VR/Theatre production was 1995's The Adding Machine. Since then we have made great strides in production. Advances in technology and technique have marked intervening productions. Each production demonstrated the use of one or more new techniques and technologies.
​
The innovation for this project was the use of computer-controlled data projectors to provide the majority of the stage lighting. Through this technique, we explored the possibility of using kinetic graphic images and animations to illuminate the scene, both literally and metaphysically. In keeping with the "live" nature of our experiments, this animated lighting was controlled in real-time in response to the action on-stage.
by WM Shakespeare (2000)
​
The Y2K production of A Midsummer Night's Dream marks a collaboration between i.e.VR and the Kent Interactive Digital Design Studio or KIDDS, a group developing the use of computers in theatrical visualization, with both historical and practical ends. i.e.VR director Mark Reaney was awarded a Leverhulme fellowship from the University of Kent. While there, he teamed up with the UKC staff and students that comprise KIDDS to create an exciting new rendition of this time-honored classic.
A Midsummer Night's Dream
the TREE of LIFE
ORIGINS and EVOLUTION
A MULTI-FACETED COLLABORATIVE MUSIC, DANCE, THEATRE PROJECT
​
For this production, we tried a few new technologies and some variants on some previously used techniques. This was our first production with virtual-reality-based scenic elements created with Quest3D software. This software provided the means of creating more detailed and dynamic simulations than we had with previous applications.

We also employed the age-old method of using layers of sharkstooth scrim in front of the main projection screen in order to give some 3-dimensional depth to the projected images.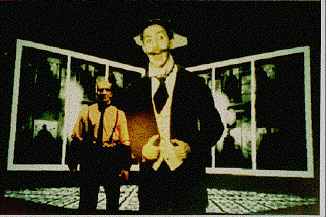 institute for the
exploration of
VIRTUAL
REALITY